Spider-Man: No Way Home Trailer Dropped - The Loop
Play Sound
A starship was a space-faring vessel capable of travelling between star systems. They typically travelled close to light speed, or used the Holtzman Effect to realize faster-than-light travel.
Starships were essential to humankind's colonization of the known universe, and were critical to intergalactic transportation and communications for many millennia.
Spaceship often is used in a more generic sense for all types of spacecraft including shuttles and short-range planetary transports.
Types of Star and Spaceship
[
]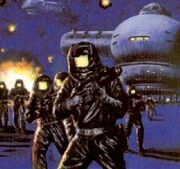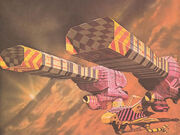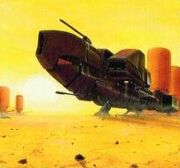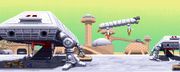 Reconnaissance

Observation ships
Scout Ships
Searchers
Spy ships

Transports

Carriers
Frigates
Guild Cargo Ships
Guild cartouches
Guild space transports
Heavy carriers
Ixian conference ships
Long-haul ships
Shuttles

Factory shuttles
Small guild shuttles
Spice shuttles

Warships
Other:
Famous Individual Starships
[
]
Expanded Dune
[
]
Combat Ships

Bomber

Atreides heavy bomber
Command ships

Corvette
Cruisers

Battle Cruiser
Interplanetary Cruiser class three
Midsized cruisers

Destroyers
Escort ships
Fighter Craft
Gunship
Lumbering Battleships
Marauder

Reconnaissance

Spacing Guild reconnaissance ship
Patrol craft

Transport Craft

Cargo-ships

Cargo Hauler
Frigate Types
Great House transport

Heighliner Types
Imperial Barge

Landing Craft

Shuttle Types

Cannonball Shuttle
Large shuttles (for cargo and equipment)
small passenger shuttle
Tleilaxu shuttle

Long haul carrier
space yacht
Starship lighter

Capital ships
Great Freight Lighter
Small Spice lighter

passenger ships

Machine Ships

Cymek Star Voyager Craft
Suicidal Robot Ships
Other:
HuMed medical ships
trans-light portal ion ships
Famous Individual Starships
[
]
Antioch

Emperor's Ceremonial Barge

Golden Advent

Lu-ta

Mad Holtzman

Salience

Sarah III

Tharodelai

Van Atreides
Images
[
]
This article is a stub: It may require more information.