Original Dune
This article or section refers to elements from Original Dune.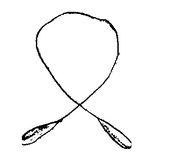 Shigawire was a metallic extrusion of a ground vine (Narvi narviium) that was made into reels to transmit messages.Shigawire, due to its strength, could also be used as a garrote, as in the case of the Sardaukar . 
Shigawire was only grown on Salusa Secundus and III Delta Kaising. It was noted for its extreme tensile strength.
Mimic film was another form of shigawire.
Garrote stats
Edit
Length: 6 centimeters (handles); 15 - 20 centimeters (wire)
Mass: Negligable
This article is a stub: It may require more information.
Community content is available under
CC-BY-SA
unless otherwise noted.