(6 intermediate revisions by one other user not shown)
Line 1:
Line 1:
 
+

[[File:File_2578100.jpg|thumb|Roderick and Salvador Corrino - fanart by Radar_rad-dude]]

⚫
 
 
+
 
+
 
⚫
 
+
 
+

==History==

 
+

Roderick was born on [[Salusa Secundus]] to [[Jules Corrino]], the 2nd Corrino Emperor and one of his concubines. He had an older half-brother named [[Salvador Corrino]] and a younger half-sister [[Anna Corrino]]. He was married to [[Haditha]] and they had 4 children-Javicco, Tikya, Wissoma, and Nantha Corrino.

 
+
 
+

He has been described as tall and muscular with a full head of thick, blond hair and handsome patrician Corrino features.

 
+
 
+

==Appearances==

 
+

*''[[Sisterhood of Dune]]''

 
+

*''[[Mentats of Dune]]''

 
+

*''[[Navigators of Dune]]''

 
+

[[Category: Expanded Dune]]

 
+

[[Category: Males]]

 
+

[[Category: House Corrino]]

 
+

[[Category: Legends of Dune]]
---
Latest revision as of 09:34, 27 May 2019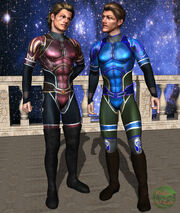 Roderick Corrino (b. 50 B.G.) was the 4th Corrino Emperor of the Imperium.
Roderick was born on Salusa Secundus to Jules Corrino, the 2nd Corrino Emperor and one of his concubines. He had an older half-brother named Salvador Corrino and a younger half-sister Anna Corrino. He was married to Haditha and they had 4 children-Javicco, Tikya, Wissoma, and Nantha Corrino.
He has been described as tall and muscular with a full head of thick, blond hair and handsome patrician Corrino features.
Community content is available under
CC-BY-SA
unless otherwise noted.