Expanded Dune
This article or section refers to elements from Expanded Dune.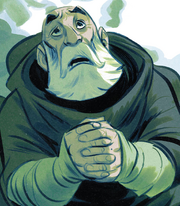 Rautha Rabban is notably the grandfather of Glossu via his daughter Emmi and Abulurd Harkonnen. He was murdered by Harkonnen troops who threw him off a cliff at Glossu's command. This was ordered by Vladimir because, with Abulurd's agreement, Rautha had neglected to pay the taxes he owed because he was using the money to take care of monks who had been left homeless after an avalanche.
The murder of Rautha along with Glossu executing whales in their spawning ground finalized the rift between Glossu and his parents. These atrocities spurred Abulurd to conceive another son with Emmi, whom they named Feyd-Rautha after his maternal grandfather.
This also led Abulurd to renounce his Harkonnen name and try to take control of Lankiveil on his own. In response, Vlad ordered Glossu to kidnap Feyd. In response to this, Abulurd liquidates the spice stores he had found and gave them to the populace. Ultimately, Glossu strangled his father to death.
Community content is available under
CC-BY-SA
unless otherwise noted.