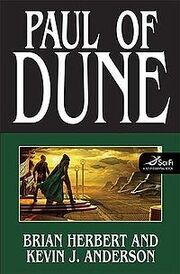 Expanded Dune
This article or section refers to elements from Expanded Dune.

Paul of Dune is the first novel by Brian Herbert and Kevin J. Anderson of their four-book series, the Heroes of Dune. The book was released on September 16, 2008, through Tor Books.
The book further chronicles the life of Paul Atreides in two different parts -- the immediate years before House Atreides moved to Arrakis, and the immediate years after his ascension as Emperor of the Known Universe.
Abstract
The following is the write-up from Dunenovels.com :
Frank Herbert's Dune ended with Paul Muad'Dib in control of the planet Dune. Herbert's next Dune book, Dune Messiah, picked up the story several years later after Paul's armies had conquered the galaxy. But what happened between Dune and Dune Messiah? How did Paul create his empire and become the Messiah? Following in the footsteps of Frank Herbert, New York Times bestselling authors Brian Herbert and Kevin J. Anderson are answering these questions in Paul of Dune.
The Jihad of Muad'Dib is in full swing. His warrior legions march from victory to victory. But beneath the joy of victory there are dangerous undercurrents. Paul, like nearly every great conqueror, has enemies--those who would betray him to steal the awesome power he commands. . . .
And Paul himself begins to have doubts: Is the jihad getting out of his control? Has he created anarchy? Has he been betrayed by those he loves and trusts the most? And most of all, he wonders: Am I going mad?
Community content is available under
CC-BY-SA
unless otherwise noted.