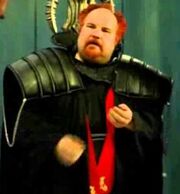 Granuk Harkonnen was the father of Gunseng Harkonnen and Vladimir Harkonnen's grandfather of whom was said that in his youth he had been " the picture of his grandfather Granuk".He had killed every son but Gunseng to better his chances of dying quietly in bed.
Granuk succumbed to a nervous disease that reduced him to a skeleton, and barricaded himself in chambers behind protection only a tyrant would find inadequate.The mysterious poetic wanderer Reeve Benin, called Granuk an an "old swine" who "(...) had vices in number to match his jowls" And mentioned that he "(...) never smelled so foul a moral stench as that of his castle".He Gave his observations of several Great Houses and his first visit to Giedi Prime in his volume, "Pearls Before Swine".
Gunseng, then twenty- three, seemed incapable of controlling the rowdy house. While his father lay on his deathbed, Gunseng knew his survival was in jeopardy. Taking advantage of the palace paranoia, he managed to reach his father's ear and coaxed from him an order for the execution of certain military officers and commanders of the elite guard.
The event of Granuks death Was not far distant and he died within days.The transition was smooth and without carnage as Gunseng's placement of his own men in the vacated positions ensured his succession.
In Emperor: Battle for Dune the brothers Gunseng and Copec Harkonnen seem to be modeled after Feyd-Rautha and Glossu Rabban and Gunseng and Araskin, though their father is named Rakan Harkonnen, not Granuk and bears some similarity to both Granuk and Vladimir Harkonnen (or more specifically, the version from the 1984 David Lynch film adaptation regarding the latter).
Community content is available under
CC-BY-SA
unless otherwise noted.