She-Hulk Trailer Dropped - The Loop
Play Sound
Original Dune
This article or section refers to elements from Original Dune.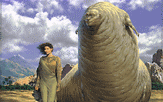 God-Emperor is the title associated with Leto Atreides II after he ascended to the throne of the Atreides Empire. The title reflects both his status as ruler of multiple galaxies, and the formidable prescience powers he acquired after his transformation to a human-sandworm hybrid.
The title did not endure well after his death. During his life Leto II's enemies referred to him as The Tyrant, and it was this title by which history better remembered him.
This title is incorporated into the name of the novel God Emperor of Dune without the hyphen.
Behind the Scenes
[
]
In India, God Emperor or "Chakravartin" is a title of a mystical figure which is said to cross the boundaries of several castes, and is therefore able to change the course of history/time. (Chakravartin means "he who turns the wheel of destiny".)
In Egyptian antiquity the pharaohs were seen as incarnation of the god Horus (although some speculate that the pharaohs were believed to be gods on earth descended from Horus). Due to this they are sometimes referred to as 'god-kings'. At the end of Children of Dune Leto II says "I'm a community dominated by one who was ancient and surprisingly powerful. His name was Harum and until his line trailed out in the congenital weakness and superstitions of a descendant, his subjects lived in a rhythmic stability. They moved unconsciously with the changes in the seasons. They bred individuals who tended to be short-lived, superstitious and easily led by a god-king. Taken as a whole, they were a powerful people. Their survival as a species became a habit." This, some of the memories offered to Leto by Harum, and certain phrases used ("pharoahnic model" and "golden path") heavily imply that Harum was the first pharaoh and that Leto's god-emperordom was based off of Egyptian god-kingdom. It also raises the chilling possibility that rather than Leto being advised by a committee headed by Harum, it is likely that the committee itself is in charge, with Leto as a member and Harum as the dominant personality in the god-emperor.