This article or section refers to elements from Original Dune
There are separate pages for this subject as it appears in the other canons, the reasons for this are explained here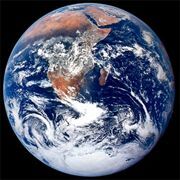 Earth, also called Old Earth or Old Terra, is the third planet located in the Sol star system. The human race originated here. It was where the Commission of Ecumenical Translators converged to assemble the Orange Catholic Bible after the Butlerian Jihad.
The planet Earth is referred to as "no longer [existing]" by the God Emperor Leto II in his Stolen Journals, and as being "gone" (along with many of mankind's other former ancestral worlds) by the Bene Gesserit Reverend Mother Darwi Odrade when conversing with the young Miles Teg ghola, which suggests that the planet is no longer inhabited by the time period of Chapterhouse: Dune (several thousand years since the era of Paul Atreides).
Community content is available under
CC-BY-SA
unless otherwise noted.