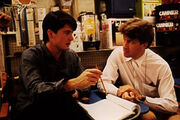 David Lynch is the American director of the 1984 film adaptation of Dune. He agreed to direct a big-budget adaptation for Italian producer Dino De Laurentiis on the condition that De Laurentiis would produce a second Lynch project, over which the director would have complete creative control. Dune was post-produced without Lynch's control and new scenes were shot with a substitute director. The finished film ran for 2 hours and 15 minutes, compared to Lynch's desired length of 3 hours.
Although De Laurentiis hoped it would be the next Star Wars, Dune was a critical and commercial dud; it cost $45 million to make, and grossed a mere $27.4 million domestically. Fans of the novel objected to story changes such as Weirding Modules, while viewers unfamiliar with the novel found the cut-down story hard to follow. Actor Brad Dourif, who portrayed Piter de Vries, referred to it as "science fiction's answer to Heaven's Gate," the infamous 3½-hour film (also featuring Dourif) that embarrassed United Artists and ushered in a new era of creative control by studios.
Lynch found the experience of working on Dune deeply disappointing. He had his name struck from an "extended cut" of Dune that Universal Studios released for television in 1988 with further changes; "Alan Smithee" was credited as the director and "Judas Booth" as the writer.
Lynch appeared on-screen in the film as the radio operator on a spice harvester.
This article is a stub: It may require more information.