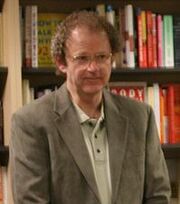 Brian Herbert (b. 1947) is an American author and the son of Frank Herbert, who was the creator of the Dune series and much of its supporting 'universe'.
While Brian Herbert has had several of his own novels published, he is presently most famous for his work that expands on his father's Dune novels.
These novels, written with author Kevin J. Anderson, have been commercially successful and generally well received by the wider public. However, they have upset some Dune fans, who believe them to be technically inferior, and likely written for purely monetary purposes.
In addition to the six Dune "prequel" novels, the two "sequel" novels, and two published and two upcoming "interquel" works, Brian Herbert has edited several other works relating to the Dune universe, as well as to his father. In 2003, Brian Herbert authored Dreamer of Dune, the biography of Frank Herbert. This touching tribute to his father garnered Brian a Hugo Award finalist nomination for Best Related Book.
External Links
Edit